Joe Gransden Jazz Milestones: Sinatra and Friends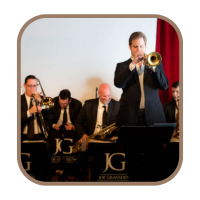 Sunday, October 1 at 4:00 p.m.
Tickets $37.50 Senior/Student/Military $33.75
Joe Gransden and his Big Band presents Sinatra & Friends, a celebration of swingin' music that has inspired generations and crossed over into many musical genres. This big band concert is the first in a new series entitled Jazz Milestones. These concerts present both traditional, new, and rarely performed arrangements, with the purpose of expanding jazz appreciation and education in the North Metro communities. The two additional concerts on December 17, 2023 and April 21, 2024 will be a must see for both the jazz novice and the aficionado. A New York native now living in Roswell, Joe Gransden has performed worldwide and released 14 albums under his own name. Renowned first for the hard bop approach of his trumpet, Gransden's singing voice has been compared to that of Chet Baker and Frank Sinatra. Gransden's sound is at once familiar and comforting but also fresh and vibrant, appealing to music lovers of all ages.

Great deals on Gransden Subscription Packages are still available!



Please note: The elevator will be out of services on 10/1. The Balcony will only be accessible via the stairs.